Now shipping! Ebook available Nov. 15. Pre-order at Rowman & Littlefield or Amazon.
October 10, 2017. The U.S. men's soccer team loses in Trinidad and Tobago, and fails to qualify for the 2018 World Cup. Winning soccer's greatest prize never seemed more distant.
Immediate fixes — a new coach, a revamped professional league, a commitment to coaching education — won't put the USA in the global elite. The nation is too fractious, too litigious, too wrapped up in other sports, and too late to the game.
Why the U.S. Men Will Never Win the World Cup: A Historical and Cultural Reality Check draws on 20 years of covering soccer — on the field and behind the scenes — along with hundreds of documents, news stories and other citations to trace more than 100 years of history and the culture that only recently lost its disdain for the global game. We don't have the depth of soccer insight and passion that much of the world has had for generations.
The difficulty isn't any single thing — the mismanagement of failed leagues, the inability to agree on a path forward, the lawsuits that stem from an inability to agree, or the unique American culture that treasures its homegrown sports. It's everything.
But with the right long-term changes, the U.S. can build a soccer environment that consistently produces quality players, strong results, and a lot more fun on the international stage. There's just nothing to be gained by ignoring the obstacles this country faces.
No, this book isn't just a bit of ranting peppered with pop culture references, though it's safe to say South Park's Underpants Gnomes will make an appearance.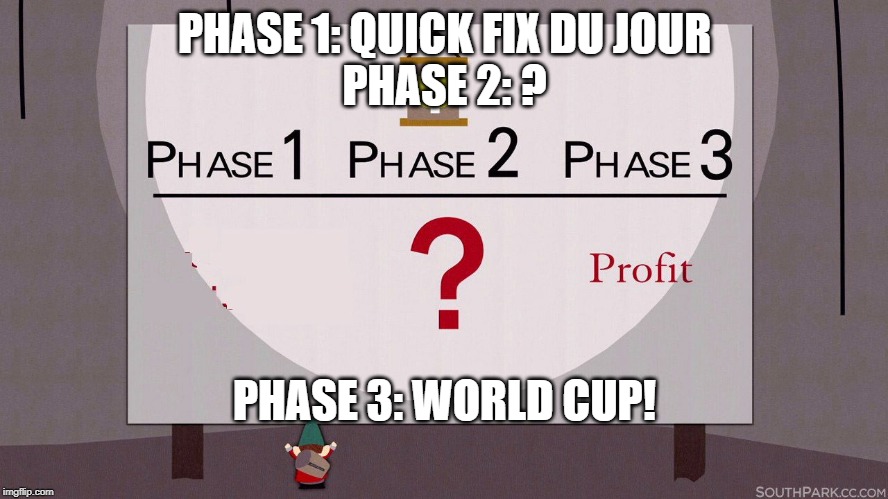 So if you want to prove me wrong, you'd better arm yourself with the information you'll need to make it happen. Read this book to learn what you'll have to address. Then come up with the long-term solution.
Good luck. You'll need it.